Ender-3 V2 Main Feature:
4.3 Inch Color LCD Screen, 32-bit Silent Motherboard, Carborundum Glass Platform, UL Certified Meanwell Power Supply, Print Resume Function, 220 x 220 x 250mm Print Size
Creality Ender-3 V2 is great at your Best budget 3D printer. The main selling point of Ender 3 series 3D printers is stable printing, mainly because of the use of V-belt pulleys, which ensure smooth movement, low noise, wear resistance, and longer printing life.
In addition, a new XY axis Tensioner has been added to the new Ender 3 V2, which supports a faster and more convenient way to adjust the belt tension. The knob added to the extruder can be used more easily. Load and feed consumables. All these improvements make Ender 3v2 printing more stable.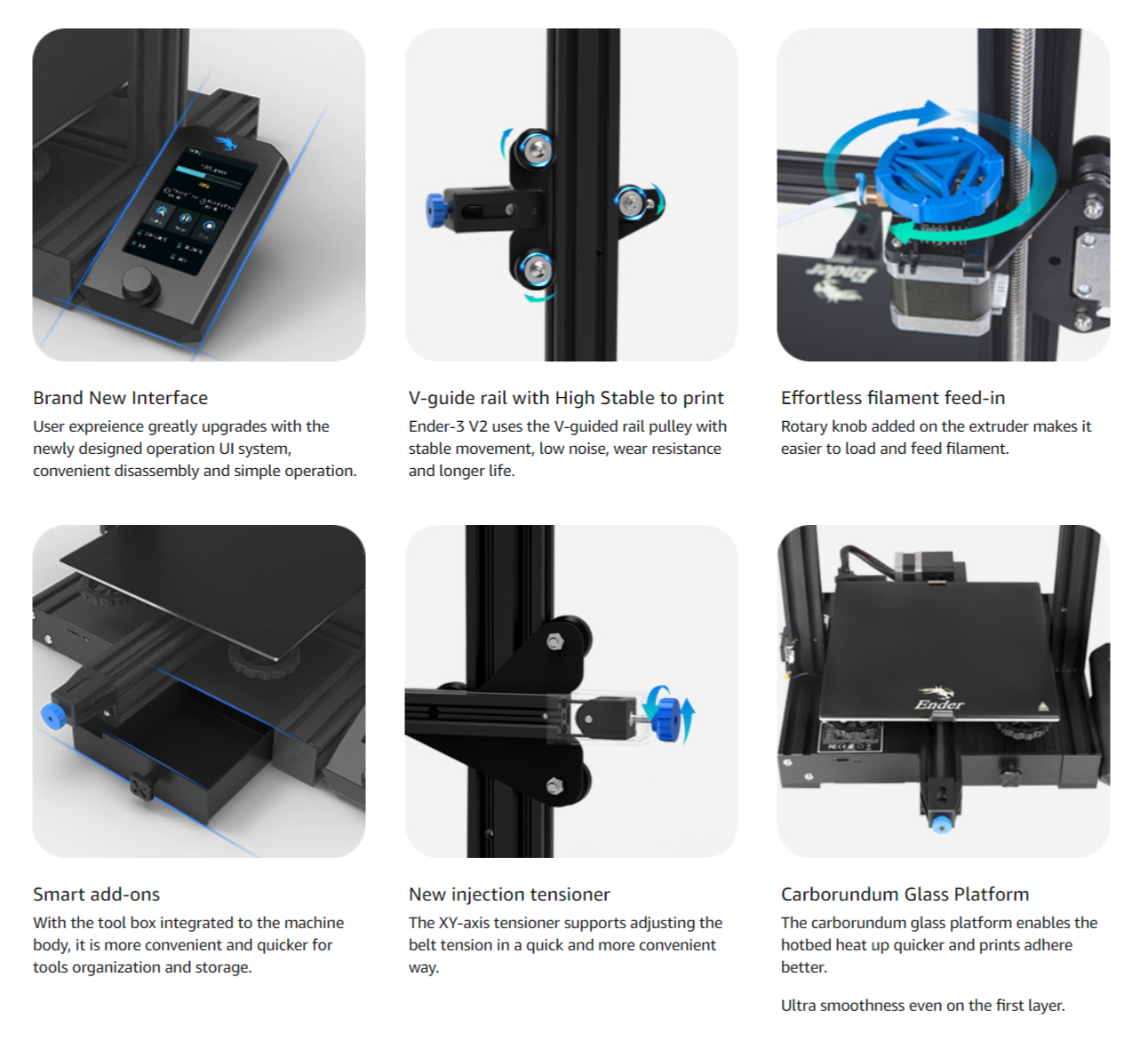 Ender-3 V2 Specifications:
Technology: FDM 3D Printer
Assembly: Assembly kit
Build Size: 220*220*250mm
Nozzle Diameters: 0.4mm
Nozzle Count: 1
Max. Nozzle Temp: 255℃
Max. Print Bed Temp: 110℃
Printing Materials: PLA,TPU,ABS
Filament Dia : 1.75mm
XY-axis Precision: 0.012 mm
Z-axis Precision: 0.004 mm
Max Print Speed: 120mm/s
Auto Levelling: NA
Supported files: STL,OBJ,G-Code
Connectivity: USB or SD CARD
Machine size: 475*470*620mm
Machine weight: 7.8kg
Board Version: Creality V4.2.2 Board 32 Bit with TMC 2209 Driver
Creality Ender 3 V2 3D Printer Review
–